World Soil Day 2019
To sensitize the students about soil and its importance in our lives, DPGA took an initiative to celebrate World Soil Day in a unique manner. Among the few other activities, grade 1 & 2 students did an activity on layers of soil followed by grades 3 to 5 highlighting the states of India with different types of soil and their uses.
MISA Aesthetics
The students of Dr. Pillai Global Academy – Gorai participated in MISA Aesthetics 2019-20 (an inter school competition) event organised by MISA (Members of International Schools Association) the students brought accolades for the school giving us pride.
Children's Day Celebrations
Diwali Celebrations
What a great day to end with!
Diwali celebration in full swing at DPGA Gorai with festivities spread all around. The event was loaded with fun activities catering to all students and parents. The pictures below say all about it. We wish you all a Happy Diwali and Happy New Year.
World Food Day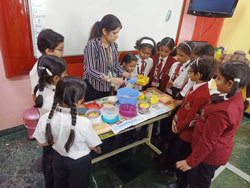 NBA (National Basketball Association) Games in India
Dr. Pillai Global Academy, Gorai students and staff are present at the first ever NBA (National Basketball Association) Games in India on 4th October, 2019.
Navratri Celebrations 2019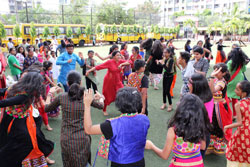 Architecture, Engineering, Medicine Workshop
The students of grade 7 were given hands on training to design in CAD software a customized key chain, slice it and print it out using a 3D printer-the software used in 123D Design. This activity not only encouraged team work but also engrained confidence to create and imagine objects, concepts of measurements, fitment in 3D.
Onam 2019
Janmashtami 2019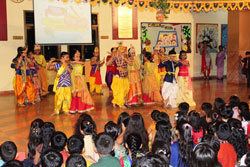 Independence Day 2019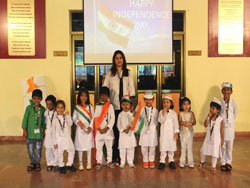 Curiosity Gym Workshop
DPGA in collaboration with curiosity gym conducted a workshop based on STEAM learning for the Sixth Graders. The students were exposed to various projects such as 3D doodling and Build a Sea link bridge through hands on activity. Such interdisciplinary explorations enabled the students to foster joy, creativity, critical thinking, team building and application.
Cell Phone Courtesy Month Celebration
JULY is the National Cell phone Courtesy Month – an event founded in 2002 by Jacqueline Whitmore, an author of Business Class Etiquette Essentials. To enlighten the students on Cell Phone Courtesy Month, DPGA celebrated the event in three separate venues, bifurcating the students from grade 1 to 10 into three groups.
Investiture Ceremony 2019-20
The Investiture Ceremony of the newly elected students` council of Dr. Pillai Global Academy took place on 19th July 2019.
Earth Savers – Recycle Action Program
DPGA fights for the environment, supporting the Swachh Bharat Mission for plastic recycling.
The Circular Economy Foundation in collaboration with the Wings foundation a leading NGO in Mumbai conducted the Earth Savers – Recycle Action Program at Dr. Pillai Global Academy, Gorai.
International Yoga Day 2019
DPGA Celebrated the International Yoga Day on 21st June, 2019, the longest day of the year, with students, teachers, parents and the local community. The school students again chose the Gorai streets this year to perform yogasanas, setting an example for the localities for a healthy lifestyle. Parents who participated in large numbers expressed their appreciation and gratitude to the school management.
CAIE Workshops
DPGA hosts the CAIE workshops again this year
Cambridge Assessment International Education once again chooses Pillai Global to conduct training sessions for teachers all over Asia.
This year, our school hosted 2 different workshops of CAIE.
Orientation in Innovation Workshop
The Times of India NIE in collaboration with Curiosity Gym conducted an 'Orientation in Innovation' workshop for the teaching staff of Dr. Pillai Global Academy. The workshop introduced the concept of Innovation and STEAM (Science, Technology, Engineering, Arts and Maths) in an interactive and engaging session and empowered the educators with skills of the 21st century. The session was carried out by Curiosity Gym Founder, Mr. Girish Nair.
Laughter Day
French Workshop
FAIRE UNE MEILLEURE CONNAISSANCE AVEC LE FRANÇAIS
French Students' Workshop on 11th August, 2018
Dr. Pillai Global Academy organised a French workshop in association with Frehindi, Paris. The aim was to go beyond classroom teaching and learning, being the essence to global education.
History / Geography Day 2018-19
History is the study of past. Studying History is important because it allows us to see societal patterns. … As the saying goes "those who are unfamiliar with their History, are bound to repeat it". Studying History allows us to build on our accomplishments and learn from our mistakes.
Star Talk Program
Hindi Language and Culture Program 2018
Dr. Pillai Global Academy – Gorai, hosted 1st ever program to have a video conferencing outside the country on Hindi language.
(India, Mumbai – USA, Pennsylvania).
Women's Day 2019
International Mother Language Day 2019
International Mother Language Day (IMLD) is celebrated every year on the 21st February with the overall objective to promote linguistic diversity and multilingualism. We live in multilingual and multicultural societies with multilingual citizens. We exist through our languages; it is through language that we express ourselves, we communicate, we participate in social and public life, and we transmit traditional knowledge, knowledge and cultures in a sustainable way.
Republic Day – 2018-2019
70th Republic Day celebrated on 26th January, 2019 with fun and excitement. DPGA offered its gratitude to the almighty as the event began. The patriotic fervor marked another level with teachers singing performance. The speech evoked the patriotic spirit in each and every one of us. The enthusiastic parents performed with zeal. The event ended with a spirit of joy, peace & oneness in the hearts of students, parents and teachers.
X-ub-erance 2018-19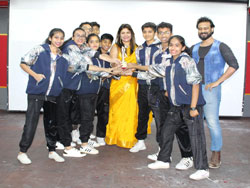 DPGA`s mega event XUBERANCE -10 was conducted on 7th Dec, 2018. This event was major success with a wide range of competitions such as art, elocution, street play, dance, fashion show, music, rock band and cooking. Students from various schools participated in the event with their energetic performances. DPGA congratulates all the winners and participants.
World Soil Day
World Soil day is celebrated on the 5th December every year. Soil is one of the most important components on Earth. World Soil Day is celebrated to highlight the importance of healthy soil for sustenance and augmented survival.
International University Fair
Dr. Pillai Global Academy takes students' education, career and future seriously and offers them guidance appropriately by inviting experts of the field every year. ICAE's Global University fair conducted in the school premise today, the 5th December 2018, afforded students of grades IX, X, XI and XII the opportunity to discover the spectrum of global opportunities available to them.
World Television Day
World Television Day was celebrated on 26th November 2018, Monday. Children were informed about the significance and its invention. The funfilled interactive session helped the students in gaining knowledge about the future technology too.
Thanks Giving Day
Students being informed about the significance of thanks giving day.
Children's Day
DPGA celebrated the Children's Day with great enthusiasm and fervor.
The theme for the day was star wars and comic characters. Popular animated characters such as Cinderella, Snow white, Mickey Mouse, and Donald Duck came alive as the children came enthusiastically dressed to school.
Diwali Celebrations
'The festival of lights' came alive at Dr.Pillai Global Academy Gorai, on 1st of November when the whole school wore a festive look. Our school celebrated Diwali in its unique way, where the whole school was decorated with a pirate theme.